So, having now recovered from the dizzy heights of celebrity offered by appearing on Shut Up We're Talking (hehe, I jest but it was an honour) I've come to the end of something I covered in one of my very early posts, I have come to the end of my RTS replay.
It's been a bit of a roller coaster, I've converged on games which some people might not call RTS, but which I covered as they have some real-time feature, or some strategy facet, or simply because they were not a shooter and I played them during my kicker :)
I started out by replaying an amount of one of my all time favourite games, CIV2. I'm specific in this, it is CIV2. Not that the other games in the CIV series are not excellent, just I have rather a soft spot for the second incarnation. I owned and enjoyed is as pretty much the only game I could turn to for some rest & relaxation while doing my bachelor degree dissertation in the embers of Christmas 1999. I had of course owned it for a long time by then, it had been a birthday gift years before. But I really got to grips with it in 1999, and I remember building massive armies and having a robust AI fight back against me on land. I enjoyed it, I pushed my 486DX2-66 running it to the max.
With CIV5 available now on pre-order, to be delivered next Friday (at the time of writing), I hope to talk the wife into letting me pre-order it this very evening. I however don't hold high hopes for it being as simple, clean and easy to get to grips with as CIV2. Graphical complexity will be massively improved however, will game play simply be more complex? Certainly some of the game play reviews out there suggest it is so.
The next on my list ironically was a delve into a title new for me, which I did blog about in an earlier post "Supreme Commander". A great game, I'm surprised my grape vine didn't light up more thoroughly with its original release. I enjoyed it, and more importantly, intend to enjoy it some more soon.
Next on my list was a jump to my long past, further back even than CIV2. To Command & Conquer. Oh how many hours did I throw away playing this game? Oh and how glorious those hours were. I'm talking about the original game, which though looking its age, plays well, clearly the time taken to normalize the it for the modern audience into a repackaged form (you can buy the C&C through the decades pack) has been well spent.
Modern game developers could learn a good lesson from the simple clean delivery of audio visual delight that is C&C. Of course the series itself is still going strong, but for me the original game is a classic.
Between those three titles we've been on about three months of play time, and as you can see not all of them belong in the RTS genre. But certainly all of them have a special place in my heart.
The next stop on my adventure was a strange one, Sim City 4. I'm sure back in the midst of time I blogged about this title, or at least mentioned I was about to play it... it's a good game, it's not in my opinion as good as the original was on my Atari ST, certainly unlike CIV2 which eclipsed the Atari ST version of CIV I was playing Sim City 4, in my mind, does not eclipse the original game. It's a fine execution of the Sim series, it is however simply not for me.
And I'm being fair there, this is an old game, no-one is going to really go out there and buy it on purpose, one thing you should be aware of out there however, is that it is coded linked to the speed of your CPU and so on modern fast processors very hard to play. It is also hopeless at understanding dual headed graphics cards with two screens attached.
With three games I love, and one dross one on the pile, I took a bit of a break from my kicker and I played some Eve Online, but slowly as Eve does it waned and I started to play some other games from my past.
First was a replay of Rome Total war, which I consider to be the best incarnation of the Total War concept from Creative assembly. However, also on my shelf was a copy of Medieval Total War 2. A title which at first glance I had dismissed as it played rather badly on my computer of the time.
But, after routing Carthage and conquering leptis magma on the African coast I popped the MTW2 DVD into my drive and went to boil the kettle while it installed.
When I returned, somewhat caffeinated, a revelation was waiting for me. I can't say if it was the graphical ability of my new gaming rig, or whether it was because I was on a high craving RTS games, but MTW2 no longer struck me as an over demanding expectation breaking. No indeed it exceeded my wants and desires and I quickly set about playing my native English nation and kicked the snot out of most all of western and central Europe.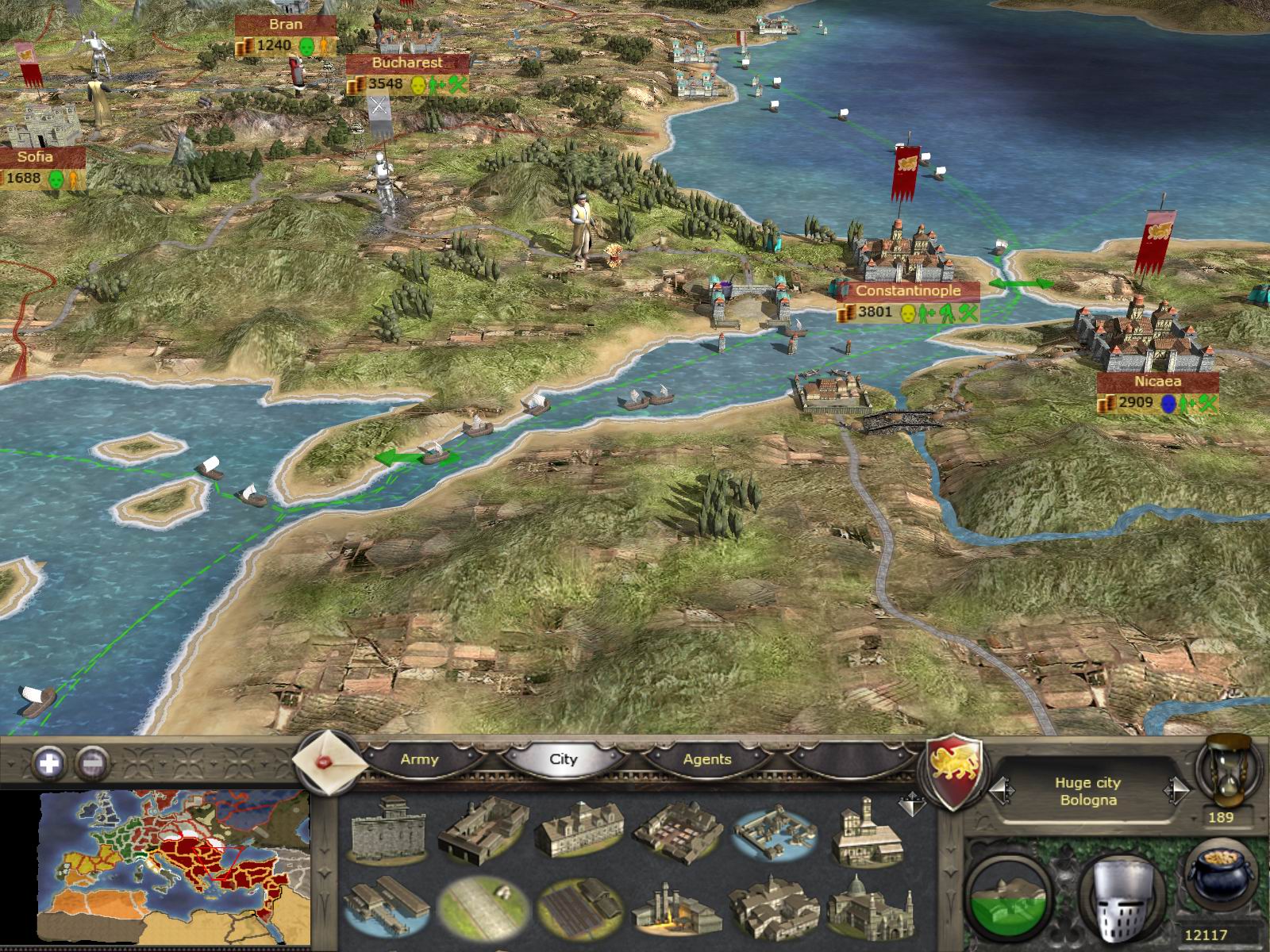 Like all megalomaniacs In history however I soon had a set back, in the game, when the Muslim nations raised against me and struck my borders.
A double barrel load of weeks later and I was cleaning up the highest level of AI, with some surprise at how good it was (though I was sure the barbarians cheated a lot).
Now in the glowing twilight of today I'm satiated, ready to move on, and I wonder what genre of games I might wonder through in the next quarter of 2010. But I don't wonder for long, until I realise my Civ5 pre-order will be taking me back into Strategy gaming...